For most, the idea of going to Israel remains a dream. However, those that are blessed enough to invest in a trip will reap the rewards. Going on a tour of Israel with your most fired-up disciples can be a trip of a lifetime.
In 2016, I went on my first trip with my wife. I can confidently say that the trip changed my life. Experiencing the land of the Bible both physically and spiritually turned my world upside-down. I have been on fire for the LORD ever since. I urge every pastor to consider putting a plan together so that certain able and willing members of the church can experience this once-in-a-lifetime experience that will turbocharge their walk with God.
Planning a trip to Israel is no small feat. On my first trip, I remember nervously getting on an airplane and landing in a foreign country and only really getting hit with the idea of being in Israel two days later. We had thorough and well-prepared lessons at every site and were averaging around 6 sites a day. I managed to soak up as much as I could while keeping a journal on hand for important notes. Being a tourist was easy. However, being the tour guide and teacher is a completely different story.
If you are planning on taking your church on a trip to Israel, I would NOT recommend going with big tour companies. I've seen how they operate – a group of 50 to 100 tourists shift from site to site hardly taking anything in with a tour guide blaring in their ears via a headset. I would however definitely recommend being the tour guide for your church.
With that being said, certain things need to happen and fall into place in order for you to confidently take your church on a tour of Israel.
Be a tourist first
In order to guide others, you first need to be guided.
I would suggest finding a small tour company that doesn't take hordes of tourists in one go. A trip to Israel may cost anywhere in the region of $1.3k to $3.5k depending on the length and who you go with.
Here are some companies that I would recommend:
While on tour, make notes of certain things you feel like you would want to teach your congregation at specific sites. Keep track of where you are and what sites you visit. Make sure you keep a detailed journal and organize your pictures daily. One of the best things you could do is keep the pamphlets that you receive at every site – these will come in handy when you need to remember certain things about a site as you put your lessons together for that specific site.
Once you've completed your tour, there is no doubt you will be fired up and spiritually recharged. This is the time to start planning your church's tour to Israel.
Plan your church tour
There are a couple of aspects of needs to look at in order to plan a trip to Israel:
Airfare
Hotels
Itinerary
Packing list
Purchasing shekels or loading up a Bidvest International card before you go to Israel (it's cheaper than using your credit card or cheque card, trust me!)
Booking a rental car
Purchasing your "Explore Israel Tourist Pass"
Booking certain events before your trip (Western wall tunnels, night show spectacular, etc)
Budgeting for additional costs of sites not on the "explore Israel tourist pass"
Airfare
Over the years, we've found that flying El Al is simply the best option. El Al takes their security very seriously, their flights are modern and the staff are incredibly friendly and professional. I've flown in other airlines and can say that El Al is hands-down the best option when flying to Israel.
Hotels + Car Rental + Taxi
Handling hotel bookings yourself can be a nightmare. On a normal trip, you would generally stay at around seven hotels. We recommend getting a travel agent in Israel to do these bookings for you. Not only do they speak Hebrew, but they also get better rates than you would get on booking sites.
Our go-to travel agent that handles our hotel bookings, car rental, and taxi back to the airport is Meni Yitzhaki at Medraft. You can contact Meni on 972-03-5780555 Ext. 413 or email him on meni [at] medraft [dot] co[ dot] il
Alternatively, you could try to do this yourself but we've found that the more you make use of someone with better experience than you, the easier the planning becomes.
Itinerary
We've created a mock-up of the itinerary we use – you can download that here. Keep in mind that your sites will change, depending on the sites that you believe will benefit your church the most.
In your itinerary be sure to keep track of the following:
All the sites you will visit
The hotels you will be staying at
Any booked events (Night show spectacular, etc)
Taxi trips
Flight details
Send out your itinerary well before the trip so that people may ask questions and prepare if need be.
Packing list
There are times when one would need more than just your standard packed items on a trip. Water shoes are a necessity, especially if you are going to the Dead Sea. The salt and mineral crystals will easily cut feet if you are not wearing water shoes. When visiting sites like Capernaum, it's important not to wear shorts or revealing clothing as you will not be allowed to enter. There are a few of these types of situations where a packing list would come in handy. Have a look at our packing list for Israel so you can use it as a starting point for your packing list.
Purchasing shekels
Using your credit card or cheque card can be convenient, however, it is expensive. The bank fees add up very quickly. I would suggest that you visit your local foreign exchange and order in some shekels.
The average person will spend around 150 to 200 Shekels a day. This is enough for lunch, dinner and some spending money. Depending on your hotels, breakfast should always be covered.
Additional costs for sites
There will be a lot of sites that you may visit that will not be covered by the "Explore Israel Tourist Pass". I've made a list of these sites below. Please note that there may be additional sites however this depends on the sites you have chosen to visit.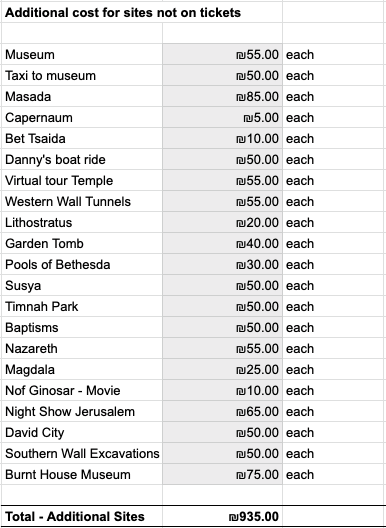 The costs above are estimates at the time of publishing this article.
Important notes about traveling to Israel
Be conservative with water use. The country uses a desalinization plant which is expensive and resource-intensive. You're in a desert country, be mindful of your water usage. The water is fine to drink.
Be well prepared when flying with El Al. They will interview you before your flight and ask you to show them your itinerary. They take safety very seriously.
Do not visit occupied territory unless you have a verified tour guide that knows the area. Most sites you would want to see are not in occupied territory so this shouldn't be an issue.
Ensure all travelers have travel insurance and have printed copies of their credit/cheque cards and flight details on hand in case their items get lost.
Ensure you pack water shoes for sites like the Dead Sea, Hezekiah's Tunnel and Yardenit.
If you're going to take a boat trip on the Sea of Galilee, make sure you go with Daniel Carmel's Faith Boat. They are truly amazing and are the only believers operating a boat on the Sea of Galilee. You can get hold of Daniel on danielcarmel5 [at] gmail [dot] com
Last updated: 05 March 2020
Latest posts by Nick Duncan
(see all)